30/07: My tailor is rich
Le voeux d'Anita est exaucé.



We have been sailing for 10 days now, and are at 1455 miles from Saint Malo = 5 to 7 days depending on the wind condition. Sailing conditions are fairly easy at present - 5-10 knots of wind, mild rain. Therefore we spent the all day on autopilot, getting as much sleep as we can before the final rush to Saint malo.

Most of our time is not spent on getting the maximum boat speed, but analyzing weather maps, checking emails with ranking and competitors datas. Looks like being in the office right? So it is resting and recovery time for the body, full action mode for what is left of our brains after 10 days.
This 2 days are quite slow with not much going on in terms of boat manoeuvre, but highly critical for the final result and the sprint to Saint Malo. Whoever is going to get the wind pressure first with the best angle will bank an instant 15-25 miles gain. We decided to go back south, which was a difficult decision as our final nation is west-north west. Now, it is wait and see - 4 rankings are at stake. For sure, we are confident, but I am sure that all our other competitors that went north are feeling the same.
And for sure, we do not forget the privilege to enjoy being in the middle of the Atlantic ocean. Last night, we saw a whale 30 meters away, and this morning 30 dolphins cruising along the boat for 1 hour. Magic moments.
Thoughts of the day.
Save biodiversity - if in the future, all you have to eat is musli + 2 spoons of skimmed milk powder + 1 spoon of cocoa for breakfast, pasta or rice with tomato sauce for lunch or diner, your life will change. And not for the better.
Cheers,
Boris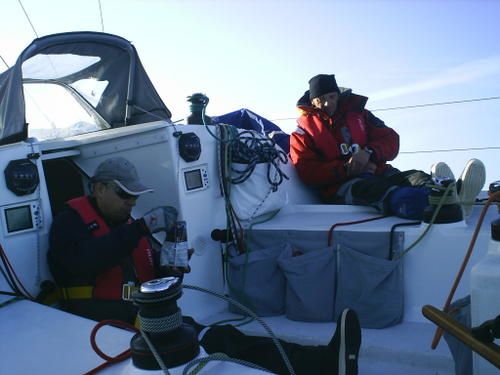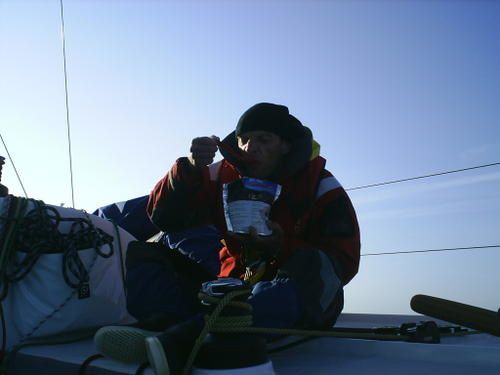 Photos prises pendant la qualif en mai dernier. Miam!
Partager cet article